CZECH HOCKEY CAMP
25 TH YEAR OF SE HOCKEY SCHOOL WILL TAKE PLACE IN SUMMER 2023. THE CAMP IS FOCUSED ON DEVELOPMENT OF SKILLS BOTH ON AND OFF THE ICE AS WELL AS BEING FULL OF FUN WITH ITS NHL LIKE TOURNAMENT, AN INTEGRAL PART OF THE CAMP.
30.07.-04.08.2023 Czech Hockey Camp with NHL tournament Velke Popovice
PRICE: €600 (including accomodation and meals)
27.12.-02.01.2024 Winter Czech Hockey Camp "ELGRAFF" Beroun
14.07.-20.07.2024 Summer Czech Hockey Camp "ELGRAFF" Beroun
21.07.-27.07.2024 Summer Czech Hockey Camp "ELGRAFF" Beroun
PRICE: € 850 (including accomodation and meals)

DO YOU WANT TO BE LIKE OUR PATRON TOMAS PLEKANEC? WE CAN HELP YOU!
Choose one of our hockey camps and come to enjoy high-quality practice under supervision of experienced professional coaches, who have prepared effective trainings plans for you, and they adjust them to your personal needs, and skill levels. CZECH HOCKEY CAMP is precise, purposeful, technically demanding. On ice and specialized off-ice practices corresponding with ice drills, focussing on the development of individual skills. BUT ALSO FUN with an NHL-like tournament prepared just for you.
Train and ...LIVE HOCKEY!! with CZECH HOCKEY CAMP and become a star like Tomas PLEKANEC our patron!


BONUS: WEEK-LONG NHL-LIKE TOURNAMENT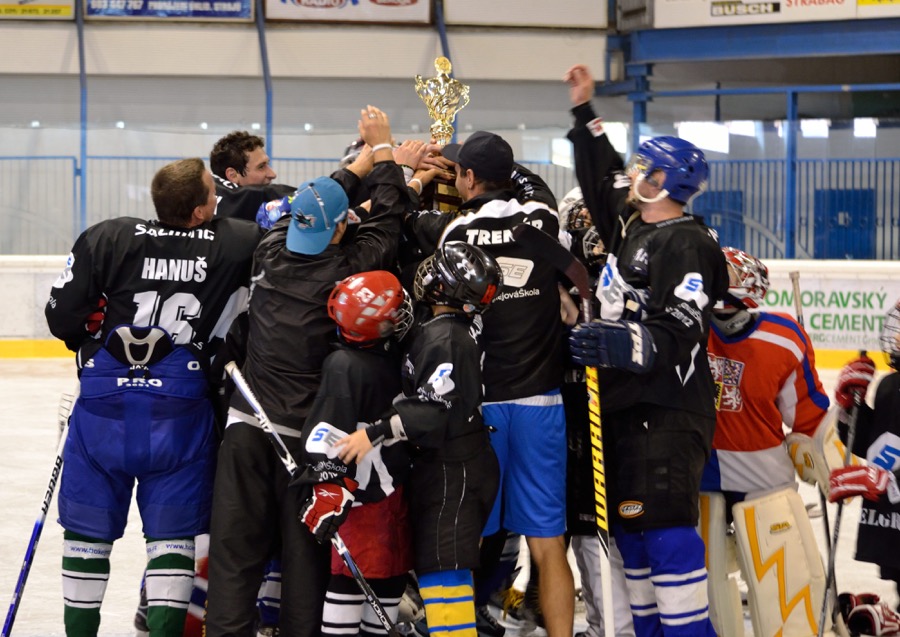 Teamwork, fun, games and challenges all in one at our special tournament
One of the most important goals of our camps is to have FUN. This is the reason we give boys and girls the chance to become a NHL players for a week. Our NHL-like tournament, with rules that allow for age and skills differences, takes part during the camp. The players are introduced to the rules during the entry DRAFT, where they will be drafted by coaches to particular teams.
The tournament is not only the matches, it is the NHL experience: practices, matches, regular season, play-offs, team and individual awards, team tactics, individual skills competitions, team bonding among the particular age categories, team spirit, engraving the names of winners on the cups, writing our own newspapers. More about the tournament can be found HERE.
What is the best expression of the Sports Events CZECH HOCKEY CAMP philosophy...?
PERFECTING TECHNIQUES - CORRECTING MISTAKES - A KIND ATTITUDE - SPECILAIZED OFF ICE PRACTICES - RELATING SKILLS WITH GAME SITUATIONS - HAVING FUN
PRACTICE ON ICE TWICE A DAY
Precise development, drills and adjustments focusing on basic individual skills (skating, shooting, stickhandling, faking, passing), as well as dealing with game relevant situations and how to deal with them in game. You experience a number of practices inspired by Czech methods, which also contain drill elements, that was have taken from our international colleagues from Canada, U.S.A., Finland, Russia as well as other countries.
skating, shooting, stickhandling, faking, 1-on-1 battles
technique of dealing with game relevant situations
techniques of finishing (forehand, backhand, one timer, deflecting, rebounds, shooting through defenders), also from the different parts of the rink
looking for open space
precise execution of traditional fakes
demonstration and practicing how to deal with 1-1 battles from both points of view
techniques of 1-on-1 battles in a different parts of the rink
basics and principles of team-work
special practices, when we will demand a huge amount of skills in a small area at the highest speed
specialized progressive practice prepared such a way, that you will practice newly learned skills by running through it in different situations to improve your skills to the highest level.
modify games, to recreate game relevant situation and make to use the skills you have learnt during the camp
OFF-ICE PRACTICES
The off-ice practices correspond with the ice practices and together develop the training process, and develop your individual skills. The specialized off-ice practices are designed to prepare players for the on-ice drills in easier conditions (and with better balance). We also provide instructions for how to deal the basic game situations.
basic rules of faking
stickhandling
passing technique
face-offs
the different techniques of shooting, as well as in different areas of the rink, and in various game-relevant situations. This all takes place in an area specially designed for special hockey practice, called the SHOOTING RANGE.
gym, swimming pool, aquapark, tatami
plyometric drills, varied ball games
drills for speed, skills, agility
SUMMER OLYMPIC GAMES


We can also offer the SKILLS DIAGNOSTICS during the camp.
Train with us - just like Tomas Hertl, Dominik Furch or Roman WILL!
Which players have we helped to develop their skills? There have been thousands players participating in the CZECH HOCKEY CAMP since 1999. Amongst them were: Tomas HERTL - the star of San Jose SHARKS and the Czech team, or Dominik FURCH from Russian AVANTGARD Omsk, who will represent Czech Republic at the Olympic games 2018. Roman WILL BILI TYGRI Liberec, recently one of the best goalies in Czech extraliga, who signed a contract with Colorado AVALANCHE following his participation on FA NHL GOALIE CAMP. Andrej KUDRNA (SPARTA Praha) or Karol CSANYI - Slovak national team player in juniors and recently Hungarian national team player.
Who are the coaches...?
Hlavním trenérem školy je kouč s licencí "A" a s bohatými zkušenostmi – Mgr. Viktor Lukáš. Metodikem je rovněž "áčkový" trenér – Mgr. Petr Novák. Hlavním ttrenérem brankářů je dlouholetý osobní trenér Dominka Furcha Jiří HÁJEK. V našem týmu je i několik zahraničních odborníků a stále navazujeme spolupráci s dašími. Na každém turnusu bude sestava odborníků zvolena z našeho pečlivě vybraného týmu, v němž každý člen z Česka i ze zahraničí prošel náročnou selekcí a splňuje přísné podmínky Sports Events školy.
You can see the complete list of coaching team HERE.
Our complex and precise hockey program is formed from three parts - ICE PRACTICE, OFF-ICE PRACTICE AND TOURNAMENT. All parts link with each other with intricate connections and attention to details. The Czech hockey camp lasts 7 days and it is full of a range of experiences. You can view the detailed sample program HERE.
. . .LIVE HOCKEY!!
LIFE IN CAMP CAMP SCHEDULE WINNERS AND AWARDS NEWSPAPERS ADULT AMATEURS WOMEN