A CLOSER LOOK AT OUR METHODS, HOW YOU WILL PRACTICE WITH US
WE BUILD FROM THE BASICS - EVERYTHING PROGRESSESS, EVERYTHING IS DONE FOR A REASON - CORRECTING ERRORS - SMALL GROUPS - WARMUP IS INTEGRATED INTO PRACTICE -DRILLS THAT RELATE TO THE GAME - DIVERSE ORGANISATION - INTERNATIONAL INFLUENCES WITH CZECH SIGNATURE - IMPORTANT SKILLS, THAT ARE MISSED IN REGULAR PRACTICES - SHOOTING RANGE TO PREPARE FOR ICE DRILLS - ENTERTAINMENT - FUN - SMILE ☺

...LIVE HOCKEY!!

We start to teach everything from the very basics, because you are not able to learn more challenging skills without high-quality and well taught basic techniques. Everything has a place and a reason in the training plan as well. Every next step continues from previous, so you can build on it.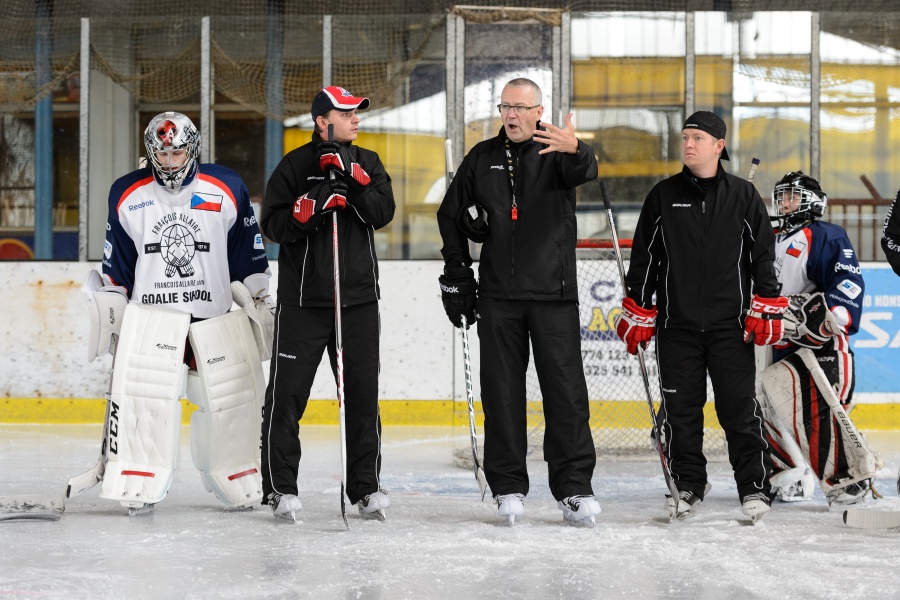 And that´s why we make a point of strictly correcting errors and effort to make each technique correct at a basic level. We're able to do this because we work in small groups, so we have a chance to take close care of each player (We keep groups of a maximum of 5-6 players in each group with their own coach, just like on the regular camps).

We represent the Czech hockey school, which is built on the methods and success of Czech hockey and on the experience of Czech coaches, who we work with. But we also bring international influences to the practices as well, which we adjust a little bit to fit Czech needs. Precise skating technique from Finland, net-front presence, hard and accurate shoots, speed, work effort from Canada, small-area work and gamefullness from the U.S.A.
The drills are not random activities, but instead derive from real game situations, the skills and how to deal with them in the game, so that what you learn you can later use successfully in matches.
The off-ice practices (mainly on the shooting range) also aren´t just mindlessly shooting at a goalie cut-out, but you will do movements and skills, which are usable in games. On shooting range means we can train you in easier conditions (there is no problem with balance on skates) for activities, which you will do later on the ice and it also enables you to practice various techniques of finishing many more times as well.
We strive to be the most efficient at organising each practice unit, which means that warm up is already the first part of the practice, which lets you repeat the skills you have learned many times. At the end of some practices (in various games) we get you to use the techniques you've learned, but we let you decide which skills to use based on the situations you find yourselves in.
We want each practice to be engaging and interesting, so we use various types of training, from GROUP PRACTICE, to CIRCUIT PRACTICE, where you cover a large amount of basic skills, OUR SPECIAL PRACTICE, where we enable you to practice a number of ways of finishing from various game situations, ZONE PRACTICE, what is more game relevant, so you can use your new skills in game situations, and little bit of OVERSEAS PRACTICE in small areas ,full of skating, quick changes of direction, finishing, speed and gamefullness.
We also try to focus on skills and techniques, which very often determine the results of matches at the highest level, but which in regular practices are little at times neglected, for example shooting through the defence, deflection and rebounds, quick changes of direction or for example the techniques of 1-on-1 battles.
EVERYTHING STILL RUN WITH THE SAME KIND ATTITUDE, TAKING PLEASURE IN THE GAME, FUN AND IMPORTANTLY WITH A SMILE ☺...
...LIVE HOCKEY!!